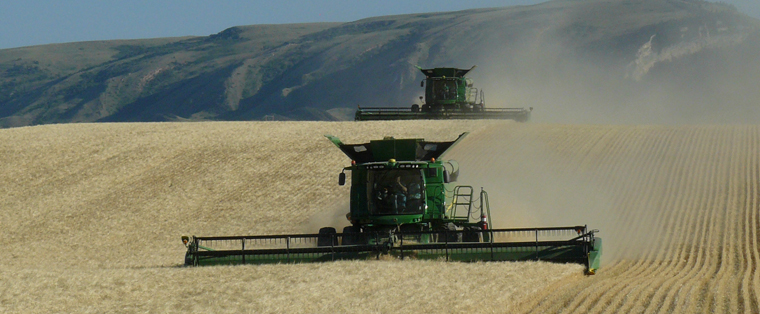 About Paplow Harvesting and Trucking
In 1991 Gary began his harvesting combining business with one John Deere combine, setting out to work for only one year on the harvest. Soon enough, one year turned into another, and now Paplow Harvesting has become a six machine operation out of Worthington, Minnesota.
On the harvest, Gary and his wife, Rhonada, are joined with his son, Paul and his wife, Christy. Our crew consists of about 12 people. Through the years, we have employed people from all over the United States, New Zealand, Ireland, and South Africa; to name a few.
During harvest, we all travel together staying in four campers. We haul all our own equipment from stop to stop.  We begin our journey on the wheat run through the midwest in Hobart, Oklahoma. From there, we travel through Kansas, Nebraska, and the Dakotas combining winter/spring wheat, canola, barley, and lentils; among other crops. We also spend time in Texas and, just recently, Montana. When the fall harvest begins, we split our machines to cover acres in South Dakota, Minnesota, and Iowa harvesting soybeans and corn.
We enjoy meeting new people and traveling all across the midwest for the six to seven months we are gone!